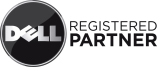 Systems Software and Support are proud to announce the launch of the Dell Product line into Cottage Country! Systems Software and Support is now a Dell Registered Partner. We bring this world renowned product as a new solution to our customers. We believe that offering the most competitive pricing backed with local expertise and support you will have an unbeatable package while supporting the local economies.
Go ahead and click on the Dell Registered PARTNER Logo and it will take you Dell's Website. Configure yourself a computer and send it to us. We will quote on it for you, order it, customize it and have shipped to our store in Minden to set it up just the way you want it.
Please send all inquires for computers to sales@systems-software.net.